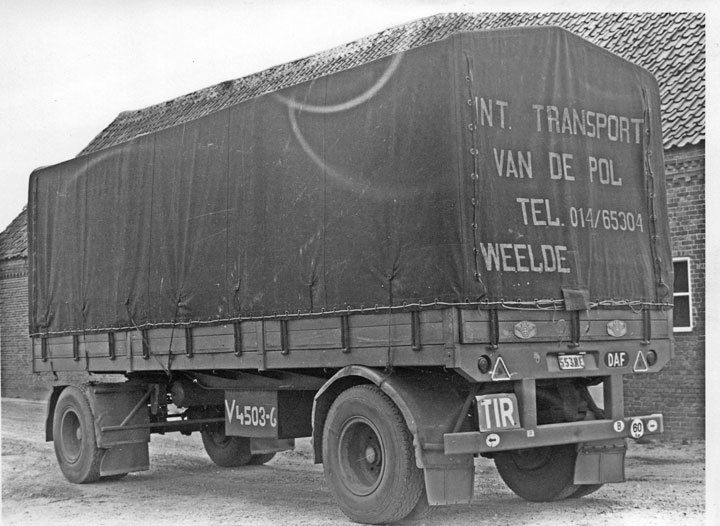 Van de Pol transport and storage throughout time
As a family business we want to continue our steady growth based on trust and the quality supplied. And this with an eye on the future, moving with the latest trends. But always with the greatest respect for the pioneers of the past. A brief look back…

Cornelius Van de Pol sets up a new transport company. In the initial years he mainly transports livestock, eggs and agricultural material.
Cornelius' three sons take the helm. They expand our services to include general transport.
The transport company is officially named "bvba Vervoer Van De Pol". The vehicle fleet now has 10 combinations.
The first warehouse is built in the Elzenstraat in Weelde. The start of the storage story, crowned with the establishment of a new company. "Van de Pol NV" (VDP).
Europe's boundaries are thrown wide open: international transport expansion.
VDP has 5,000 m² of storage space – with sprinklers and heating.
The time has come for new warehouses in Turnhout. These are located right next to the motorway to guarantee an optimal service for customers.
André Van de Pol takes over the company shares from his brothers.
The storage facilities cover a total surface area of 20,000m². They can accommodate 30,000 pallets and packages.
Twenty-five Van de Pol combinations criss-cross Belgium and Western Europe. Some 10,000 transport orders are carried out each year.
Opening of the company's own new depot in the Everdongenlaan in Turnhout.
André retires, sons Bart and Paul continue operations.
The three warehouses – 25,000 m² in total - are running at full capacity.
Bart Van de Pol takes charge of daily operations.
The new warehouse in the Nijverheidsstraat is ready. The new head office is immediately also brought into use.
All activities are coordinated from the new head office.
In the four warehouses, with a total surface area of 30,000 m², we offer more than just storage alone: rewrapping, order picking, pallet turning, container stuffing, etc.
We continually renew our vehicle fleet. The fleet now includes 25 lorries and 50 trailers, including tautliners, refrigerated trucks and container chassis.
Building a future together with Van de Pol?